The John Jay College Student Council, in partnership with The United Nations Association - CCNY Chapter presents
Human Rights for all: Disability & The United Nations Sustainable Development Goals
Join us as we celebrate International Day of Persons with Disabilities.
---
December 8, 2016
6:00pm - 8:00PM
John Jay College Moot Court
860 11th Avenue
New York, NY 10019
Grace Theresa Agalo-os, Host
Welcoming Remarks - Students Leaders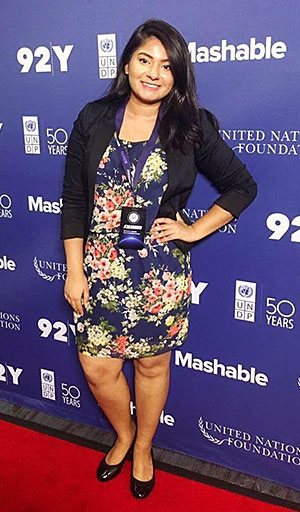 Rabita Tareque
President of UNA CCNY Chapter
(Global Advocacy & UNA)
Why is Human Rights for all important & how can youth place a role in being the change we want to see?
Rabita Tareque is a 20 year old Muslim woman who loves to advocate for gender equality and youth involvement on global issues. Her struggle and advocacy for these issues are very closely tied with her ethnic background. She was born and raised in Bangladesh, a developing country, where issues like corruption, poverty and patriarchy has been normalized for decades. While growing up, she struggled to find anybody from her community, especially the youth speaking up against issues like gender inequality and poverty. Rabita is now currently majoring in International Relations and minoring in Public Policy & Public Affairs at City College of New York.
Few months ago, she took the initiative to revive the United Nations Association - City College of New York campus chapter in order to bring the young generation together and support the vital work of the UN. As the President of the chapter, she has planned various events and workshops for the young students on campus, in order to engage and inspire them to work towards reaching the Sustainable Development Goals. To learn more about UNA visit: http://www.unausa.org/membership/join-una-usa
As a former intern at DRUM: Desis Rising Up and Moving, she have organized and fundraised for various grassroots campaigns to help South Asian undocumented immigrants and fight for worker rights. As a former Teacher assistant at a Community School, she have tutored homeless children in order to give back to the community. Rabita have also been picked as the Working Member on Youth and Gender Equality at the UN Women. This position allows her to participate in various meetings and discussions on the 2030 Global Goals and gender equality as well as volunteer with youth to end gender inequality.
Yssed "David" Tobo
USS Delegate York College/SEEK Mentor
Vice Chair of Disability Affairs
CUNY University Student Senate
Accessibility in higher education settings: role of youth, staff and allies.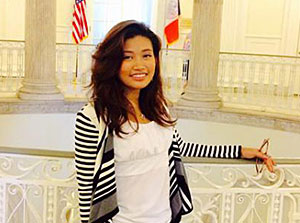 Grace Theresa Agalo-os
President of SGA JJAY
Student Activism and Impact
Grace Theresa Agalo-os is a senior majoring in Political Science and minoring in Anthropology. At John Jay, Grace has been a board member of the CUNY Coalition for Students with Disabilities, representing 9,000 students with disabilities across CUNY and the State of New York, and has testified in borough hall meetings to fight to the success of ADA TAP. Furthermore, as a University Student Senate, Grace planned, coordinated and participated in three conferences including the Olmstead Conference highlighting the 25th anniversary of the civil rights act of persons with disabilities. Lastly, she is a New York representative for the Global Institute for Youth, which is a non-profit organization designed to establish more grounded works for the youth. She plans to establish her own non-profit organization which will be a center for services needed for young adults with disabilities.
Presentations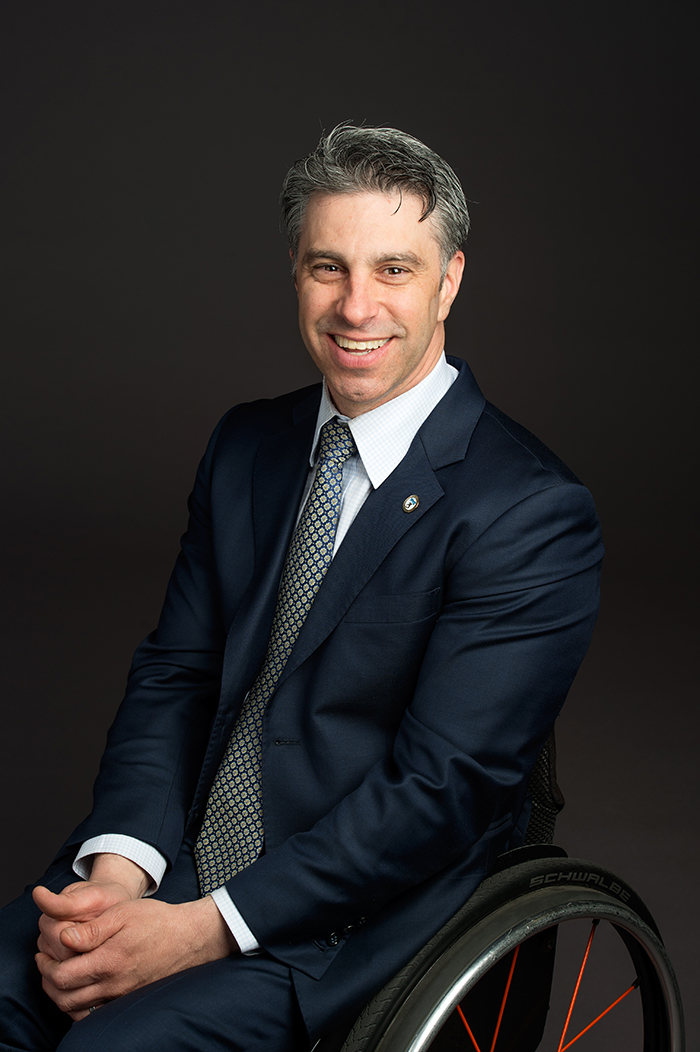 Victor Calise
Commissioner, Mayor's Office of People with Disabilities
Commissioner Calise brings a history of inclusion, diversity and access to MOPD and his goal is to make NYC the most accessible city in the world. Under the leadership of Commissioner Calise and that of Mayor Bill De Blasio, MOPD has created AccessibleNYC, the first report on the state of people with disabilities and interagency plans to improve the quality of life for New Yorkers with disabilities across the five boroughs.
Accessible NYC addresses every aspect of life as a New Yorker and focuses on transportation, employment, access and education, creating a more inclusive and accessible city for all.
While riding a mountain bike in Forest Park in 1994, Victor sustained a spinal cord injury. He became involved with disability sports through the United Spinal Association and focused on sled hockey. Dedication, passion and drive led to representing the United States on the 1998 Paralympics Sled Hockey team in Nagano, Japan.
Working initially as United Spinal's Recreation Coordinator, he rose rapidly through the ranks reaching the title of Director of Sports Marketing. In October of 2006, Victor joined the NYC Department of Parks & Recreation as their ADA Coordinator overseeing accessibility projects throughout the five boroughs.
The parks system is a historic collection of properties, most of which were designed and built prior to accessibility laws. He coordinated with staff at all levels, improving compliance with the law while producing a transition plan to increase access in the city's parks, beaches, recreation centers and other facilities.
In June 2012, Victor was appointed the Commissioner of the Mayor's Office for People with Disabilities by Mayor Michael Bloomberg, and then reappointed by Mayor Bill De Blasio in 2014.
He advises the Mayor on issues affecting over 900,000 New Yorkers with a Disability and 6 million visitors with a disability. He is the liaison between the disabled community and City government, works to connect with the services they need and is the disability policy advisor to City agencies and the Administration.
He spearheads myriad projects, partnerships and initiatives that better the lives of people with disabilities; advocates for the passage of legislation to help the disabled community; and is the Chair of NYC Building Code Accessibility Committee.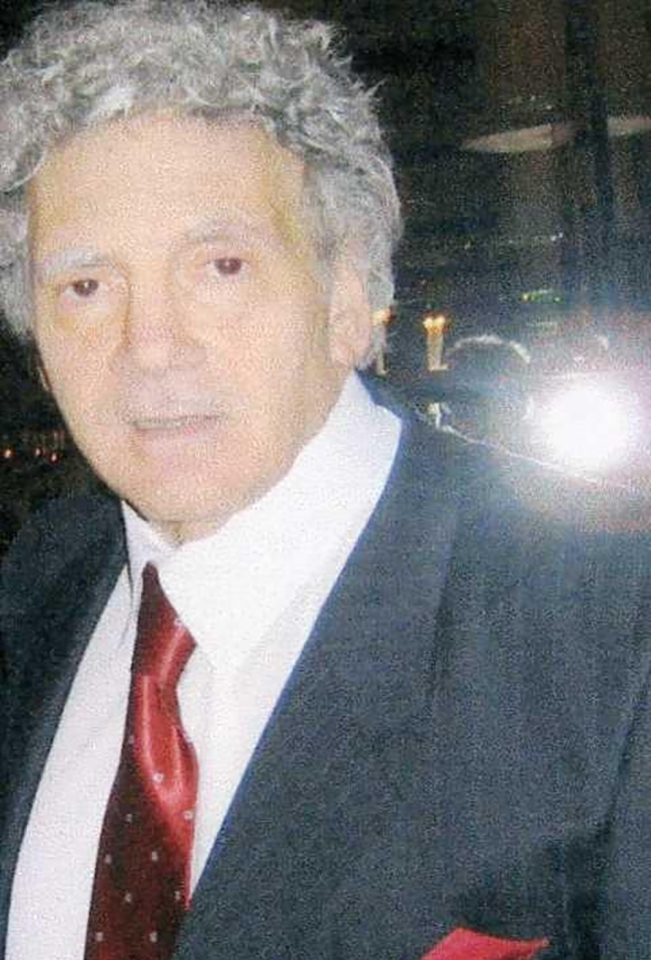 Dr. Salvatore Pizzuro
Disability Policy Specialist and Civil Rights Advocate
Dr. Salvatore Pizzuro is a disability policy specialist and civil rights advocate in New Jersey. He has served as a consultant to the US Congress on each reauthorization of the Individuals with Disabilities Education Act since the law was passed in 1975. He has authored numerous books, professional journal articles and research studies in the areas of disability policy, education, rehabilitation, and community acquiescence. He holds a doctorate in Developmental Disabilities from Columbia University and an advanced degree in Disability Law from New York Law School.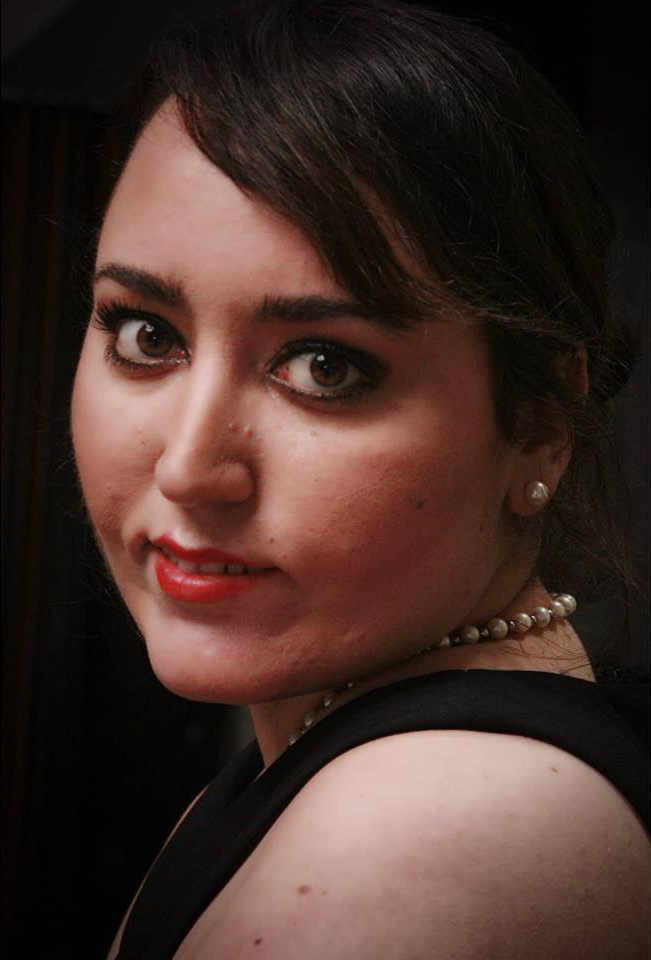 Kristin Duquette
Athlete and Civil Rights Advocate
Kristin Duquette is a 5x American Paralympic Record Holder, former US Team Captain for the 2010 Greek Open, and 3x Junior National Record Holder in swimming. In addition, Kristin completed a 1.2 mile Half Ironman open ocean swim sponsored by the Challenged Athletes Foundation. Kristin was featured in the adaptive sports documentary Endless Abilities during her training for the London 2012 Paralympic Trials. She is passionate about disability youth, sport and empowerment.
Kristin is also a former Goldman Sachs Scholar and began her activism work during her time in college. She is the founder of a disability empowerment college program called A Day in a Wheelchair, promoting disability rights as human rights. With a B.A. in Human Rights from Trinity College, Kristin's summaries of UN disability policy have been archived in the Academic Council on the United Nations System. Kristin is affiliated with the American Association of People with Disabilities, the Challenged Athletes Foundation, and the Clinton Global Initiative.In addition, Kristin attended the One Young World Youth Summit in 2013 to promote A Day in a Wheelchair and meet other global change-makers. Kristin was named the 2014 Disability Mentor for the Clinton Global Initiative University and continues to promote disability rights as human rights.
Kristin is currently studying at Harvard University for Nonprofit Management and works inside the Obama Administration.
Panel Discussion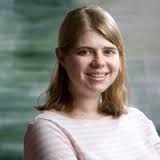 Amanda McRae is a legal adviser at Women Enabled International. Before joining WEI, Amanda was a Finberg Fellow and researcher at Human Rights Watch, where she focused on human rights issues in the Western Balkans and disability rights worldwide. She also served as a Global Advocacy Adviser at the Center for Reproductive Rights, advocating for the rights of women and girls at the United Nations in New York and Geneva. She holds a J.D. from Duke University School of Law and a B.A. from Carleton College.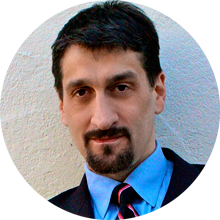 Albert J. Rizzi, Founder of My Blind Spot. Albert received his B.A. from Manhattanville College and has dual M.S. degrees from St. John's University in education—one in early childhood and the other in administration and supervision. He was a New York City Teaching Fellow and began his career in education as a kindergarten teacher. He became the Executive Director of MARC After-School and Pre-K Program located in the South Bronx, providing direct services to 250 students and their families. In 2006, Albert unexpectedly and completely lost his sight. He became an activist and advocate for the blind and print disabled, providing education and awareness around virtual accessibility for digital platforms and building awareness of assistive technologies used by members of the disability community. In 2009, he founded a nonprofit, My Blind Spot, www.myblindspot.org, dedicated to Inspiring Accessibility for All! He speaks out for accessible technologies, employment, and financial independence for the disability community, particularly for people who are blind or print disabled.
Albert has addressed thousands of people across the U.S. and internationally. His unique blend of passion, optimism, humor, and outspokenness make him a sought-after speaker who engages and inspires audiences of all ages.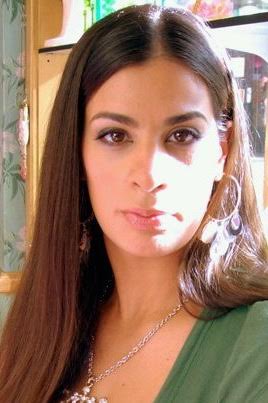 Maysoon Zayid is an actress, comedian, disability advocate, and writer. She is a graduate of and a Guest Comedian in Residence at Arizona State University. Maysoon is the co-founder/co-executive producer of the New York Arab American Comedy Festival and The Muslim Funny Fest. She was a full-time On Air Contributor to Countdown with Keith Olbermann and a columnist for The Daily Beast. She has most recently appeared on Oprah Winfrey Networks In Deep Shift, 60 Minutes, and The Meredith Vieira Show. Maysoon had the number one TED Talk of 2014 and was named 1 of 100 Women of 2015 by BBC.
As a professional comedian, Maysoon has performed in top New York clubs and has toured extensively at home and abroad. She was a headliner on the Arabs Gone Wild Comedy Tour and The Muslims Are Coming Tour. Maysoon appeared alongside Adam Sandler in You Don't Mess with the Zohan and is the founder of Maysoon's Kids, a scholarship and wellness program for disabled refugee children. Maysoon walked in New York Fashion Week and is proud to be an ambassador for Kara Ross's Diamonds Unleashed. She was delighted to be a 2013 honoree of United Cerebral Palsy NYC's Women Who Care Awards and is honored to sit on their planning committee. www.Maysoon.com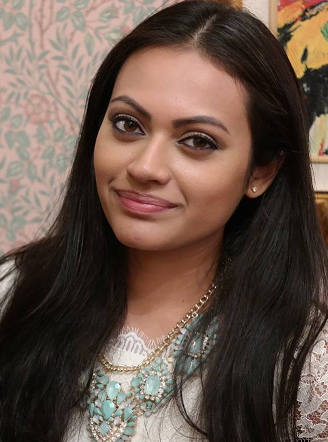 Srabone Monir, Esq. is a Staff Attorney at Disability Rights New York (DRNY). DRNY is the Protection and Advocacy agency for New York State. Protection and Advocacy agencies are authorized by federal law to provide legal representation and other advocacy services to people with disabilities. Srabone provides legal representation to disabled individuals who face discrimination related to employment, housing, transportation, and education. Prior to working at DRNY, Srabone was a fellow at New York Legal Assistance Group where she represented indigent victims of domestic violence in Family and Supreme Court. Srabone received her JD from St. John's University School of Law in 2013 and her BA from St. John's University in 2009.
Victor Calise, Commissioner, MOPD (see bio above)
Moderated by Edmund Asiedu
Edmund Asiedu was born and raised in Ghana. He contracted the Poliovirus at the age of two, resulting in his disability. Edmund relocated to the U.S. in 2010. He currently works with Berkeley College as a career counselor. His background in disability movement both in Ghana and the U.S. has made him a strong advocate for persons with disabilities around the world. Edmund was the National Public Relations Officer for the Ghana Society of the Physically Disabled Youth Wing from 2005 to 2009. He played a major role in the effort that led to the passage of the Ghana National Disability Act in 2006. Edmund founded the club for students with disabilities at Lehman College in the Bronx, NY in 2011. He represented Lehman College students with disabilities at CUNY Coalition of Students with Disabilities from 2011 to 2014. In 2013, he worked as a public policy intern at the National Disability Rights Network in Washington, DC as part of the American Association of People with Disabilities (AAPD) Internship Program. He graduated from Lehman College in 2014 with a Bachelor's in Social Work and he is currently a Master of Public Administration Candidate at Baruch College in New York, NY. Edmund is a marathoner who successfully finished his 4th NYC Marathon this year. Recently, Edmund received community service award from Hamilton Madison House, Inc. a non-profit organization in Lower Manhattan. He aspires to become a strong international disability activist influencing policies that affect the lives of persons with disabilities.
Suggested Discussion topics:
Get to know the panelists. What inspires them about the work that they do? What are some significant life lessons they have learned along the way?
High level overview of global disability rights. What is CRPD and what does it mean to you? Why is it significant? (10 Year Anniversary.)
Overview of the United Nations Sustainable Development Goals? Is the agenda inclusive? If so, in what way?
What are some of the proudest milestones achieved? What challenges remain?
How can those passionate about disability advocacy get involved -- at the local, national, global level? Resources? Etc
Closing | Networking Reception
Promotional Partners/ Sponsors:
UNA Southern NY Division
UNA SNY Young Professionals
UNA Queens Chapter
Leitner Center for International Law and Justice
Young Professionals Health Care Network
WAM New York: Women Advancing Microfinance NY
Melendez Media Group, LLC
***If any reasonable accommodations are needed, please email harismelendez@gmail.com***
Accessible Entrance: 860 11th Avenue, New York, NY 10014 - Google Map Link