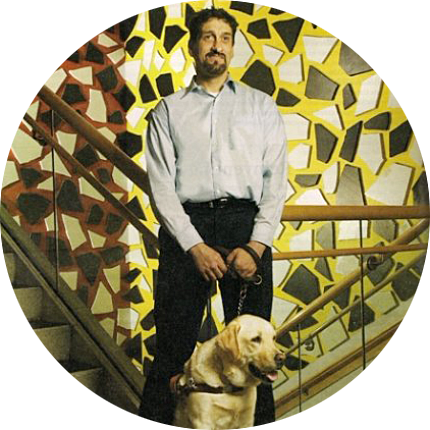 Albert J. Rizzi
Founder of My Blind Spot
Albert J. Rizzi received his B.A. from Manhattanville College and has dual M.S. degrees from St. John's University in education—one in early childhood and the other in administration and supervision. He was a New York City Teaching Fellow and began his career in education as a kindergarten teacher. He became the Executive Director of MARC After-School and Pre-K Program located in the South Bronx, providing direct services to 250 students and their families. In 2006, Albert unexpectedly and completely lost his sight. He became an activist and advocate for the blind and visually impaired, providing education, building awareness, and working to achieve the development and dissemination of assistive technologies.
Brian Wentz
Research Advisor
Brian is the chair and an associate professor in the Accounting and Management Information Systems Department at Shippensburg University of Pennsylvania, and he is frequently involved with applied research that focuses on the implications that Web accessibility and usability can have on business, education, employment, public policy, and societal inclusion. For more than 13 years, he has been involved in a variety of projects related to Web accessibility and usability for people with disabilities. Dr. Wentz has published over 25 refereed articles in journals, books, and conference proceedings, and lends his support to the mission and vison of My Blind Spot.
James Brock
CEO and Co-Founder, Blue World, Inc, a privately held data collection and marketing company
Diana Kamp
Business manager in the veterinary industry and fundraising consultant.
Ted Locke
CFO and Co-Founder, Blue World, Inc, a privately held data collection and marketing company
Albert J. Rizzi, M.Ed.
Founder and CEO
Kathleen Taché
Executive Assistant
Glen Walker
Director of Operations
Brian Wentz, Ph.D.
Research Advisor
Gabe DiMaio
Marketing and Outreach
Donna Cozzolino 
Director of Client Success and Strategy
Jonathan M. Hermus
Marketing and Outreach
Richard P. Kelly
Educational Projects Coordinator
Frank Hogsed
Project Manager
Jeff Welden
Usability Tester
Rhea Althea Guntalilib
Usability Tester
Arnie Abrams
Grants and Development
Georgia Baransky
Accounting Manager
Melody Colichio
Bookkeeper