Statement on Accessibility
In the 21st Century, access to digital offerings, including the Internet, are critical to ensuring a fully inclusive global society. There are nearly 1.3 billion people with disabilities (PWD) living in the world today. That is a population of people larger than the country of China. In the United States alone, 20% of our entire population, nearly 58 million people, are disabled. They rely on some assistive or adaptive device or supports to live their lives as fully as non-disabled people.
Most people take for granted the simplicity with which we navigate the Internet for finding work, maintaining our finances, shopping, making travel plans, and other activities. Yet today, PWD are unintentionally barred from navigating the Internet, their mobile apps, software programs and digital offerings. Numerous gaps in technology block PWD from using the Internet as seamlessly as others.
My Blind Spot (MBS) is committed to ensuring accessibility for all people. Leading by example, we work dedicatedly to infuse accessibility into the DNA and corporate culture of our clients. MBS is committed to developing a virtual world that is accessible to everybody. We believe access to the right tools promotes ability and restores infinite possibilities. We cannot deny access in real-world businesses or public forums to seniors who move through life differently or soldiers who have lost their vision in battle. However, that is exactly what happens day in and day out when websites and digital offerings are not accessible and compliant with the law. Inspiring access for all people is what we are all about at MBS!
MBS is committed to the highest levels of accessibility through our digital offerings. Our efforts at Accessibility Governance exemplify inclusive and achievable digital offerings for other organizations to consider as they work to offer robust, fully-functional sites that are usable by PWD.
When we speak about accessibility for PWD, or people who are blind or print disabled, we are specifically talking about people with visual, hearing, motor, cognitive and learning challenges. Designing accessible virtual environments is not just the right thing to do. It is also simple good business. Here are some key ideas to remember:
Accessibility provides a return on investment, which will be realized with increased revenues, increased social capital, and reduced risks to litigation.
There is a wide misperception that it is too costly to make a website or software program accessible. MBS is here to tell you that such beliefs and misperceptions are rooted in antiquated myths and ignorance. Making the Internet accessible is a manageable thing to do. There are excellent and practical guidelines available from the Worldwide Web Consortium (W3C).
At MBS we feel strongly that Universal Design Principals are the keys to ensuring that the widest spectrum of peoples have access to your organization's digital offerings. Technologies and the Internet change constantly and just when you think you have all your bases covered, something happens or technologies advance, often within days, which makes your adaptations and improvements obsolete. When MBS provides accessibility governance for our clients we know it is not enough to think about fixing things once and expecting them to last for perpetuity. We do not make sweeping generalizations expecting that one size fits all either. At MBS, we look at technologies, the Internet and digital offerings as a living document or as being in perpetual motion, also known as a moving target.
One of the ways we are able to succeed has to do with the team we have created at MBS. TEAM is an acronym for Together Everyone Achieves More! We are able to achieve more than most because we rely on testers and programmers who are not just professionals, but are also stake holders in the outcomes. We turn to PWD to test and re-test our accessibility solutions to ensure we are always leading with our best foot forward. The experiential data and feedback we collect, from actual professionals from the disabled community, allows MBS to guide all our clients in best practices for a digital offering that is not just accessible and compliant, but, more importantly, usable.
To that end, knowing that the digital world is forever changing, we partner with the best and the brightest in the accessibility industry so we can always be one step ahead of others and avoid having to reinvent wheels. This minimizes learning curves for MBS and as for our clients. Being one step ahead of our for profit counterparts allows MBS to incorporate emerging technologies while better understanding how these innovative tools allow us to empower ability and independence for PWD and their families.
What makes a website or digital offering accessible and usable to PWD?
Uses fluid descriptive text and tags to provide descriptions of images, graphics or logos;
Incorporates captioning and descriptive audio in all videos conveying valuable information to visitors;
Includes Universal Design Principals in order to reach the broadest number of people without having to consider costly and case by case adaptations. If we design things with accessibility at the start we reach far more people than if we did not;
Includes proper navigation options, descriptive headers, intuitive design elements that do not rely on a mouse to move through a site;
Designs a digital offering that is keyboard accessible;
Utilizes appropriate labels on all elements throughout the site;
Provides a complete and clear descriptive text for hot keys or hyper-links;
Properly designs tables, that flow intuitively, with proper column and row labels;
Adequately defines header tags that are easily navigated;
Offers proper color combinations that enhance the Web experience as opposed to hinder it;
Makes it able to use it with your eyes closed! If you can navigate your digital offerings without a screen and just the speakers and keyboard you have an accessible digital offering!
All web pages at MyBlindSpot.org conform to the Web Content Accessibility Guidelines 2.0, W3C Recommendation 11 December 2008, and Level AAA conformance except in one respect. The one exception is that not all pages meet WCAG Success Criteria 3.1.5 (an AAA Reading Level requirement), talk about a moving target.
Document Description:
Unless otherwise noted, this Conformance Statement pertains to all navigable and non-navigable pages, including error pages on this website and applies to all page styles. This document does not apply to the browser- or reader-created RSS feed page, nor does it extend to supporting downloadable files in alternate formats.
Supported Technologies:
All pages of this site have been designed and generated to be usable with the following technologies: visual web browsers (with cross-platform consistency), hand held devices, text-only software, screen readers, magnifiers, and other known assistive technologies, though not all have been fully tested.
Site Requirements:
To use this site, the following is needed: an Internet connection, a HTTP-capable user agent such as a web browser, an input device such as a mouse or a keyboard, and an output device such as a screen, speaker, or braille display. The following are not required to use this site: JavaScript (though some is used for progressive enhancements), plugins or special programs, an input pointing device (mouse), page styles, images, or colors. To use the RSS feed, however, the user must have a supporting feed-reader or a way of bookmarking the feed link. Cookies are used, and required to retain preferences, but all applicable features are still usable on a page-by-page basis if cookies are not supported or accepted.
Navigation Issues?
Having trouble accessing something on our site? Ran into a virtual wall? Let us know and we will correct any barriers or glitches immediately. Only with your feedback and support can we continue to keep our site running smoothly!
Special Thanks goes to:
GRQ Innovations, Inc. For their accessibility consulting and Sitecues for the integration of their magnification tool, zoomtext.
Accessibility Stamp of Approval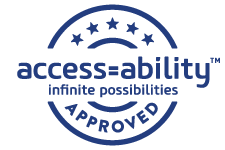 This statement was initially prepared on March 20, 2016 by the team at My Blind Spot, in conjunction with GRQ Innovations, Inc, and was last updated on August 17, 2018.