Let our team of accessibility professionals who are also stakeholders in accessibility and usability outcomes, guide your team in constructing and building those virtual accessibility ramps into your digital infrastructure.
We are committed to enhancing your appreciation for accessibility as part of your corporate social responsibility strategy. We will work with you to weave accessibility into the DNA of your corporate culture. Let us serve as your accessibility governance team to guide and educate you in complying with federal and international best practices for building accessibility into your organization.
Accessibility for Executives
Many industry executives are not aware of the business advantages that can be achieved when accessibility is considered for both customers and employees. My Blind Spot will share the business case for accessibility with executive management teams, highlighting the benefits in product innovation, customer satisfaction, employee morale, brand reputation, and talent acquisition. We will provide data as well as real-world examples of companies that have been successful in making accessibility part of their "corporate DNA". We have found that once executive leaders understand the benefits of accessibility, they are excited to sponsor initiatives to improve products, corporate websites, and mobile applications, as well as ensure inclusion for employees with disabilities.
MOTIVATIONAL SPEAKING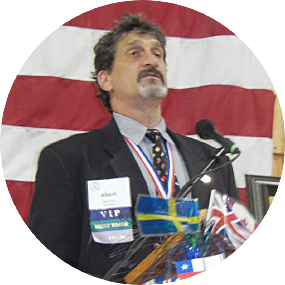 Albert Rizzi, Founder and CEO of My Blind Spot, will share his personal story and experience on becoming blind, facing obstacles, and re-inventing his career and life purpose. Albert is available to speak with businesses, government agencies, and educational and non-profit institutions to raise awareness and challenge myths about people with disabilities and the real reason for the challenges they face in realizing their full potential (hint: it isn't their disability).
ACCESSIBILITY PROGRAM MANAGEMENT
Accessibility Program Guidance
At My Blind Spot, we understand the value of approaching accessibility holistically, but we also know that many organizations don't know exactly where to start or how to coordinate accessibility efforts across various teams and business units. We can help. Our experienced staff of accessibility program managers and technical experts can guide you in setting up, executing and tracking your accessibility progress across your organization so that you can achieve real results quickly and easily. We will help "teach you to fish" and ensure that accessibility becomes sustainably infused in your organization's "DNA".
Accessibility Policy and Statement Development
MBS guides clients in the formulation and development of internal accessibility policies and procedural guidelines to be implemented in a phased approach. Additionally, we help create and develop Customer-Facing Accessibility Statements, providing and publishing clear statements regarding each organization's commitment to accessibility as well as providing specific helpful information to customers with disabilities.
Customer Support Training in Disability Awareness
MBS offers training for Customer Support associates having direct interactions with and inquiries from consumers with disabilities. We help develop awareness and sensitivity trainings that are based in universal empathy and respect for people of ALL abilities. MBS can serve as our client's Disability Customer Service Associate team, fielding all inquiries from the consumers with disabilities, until focused training is completed. Our network of partnerships within the industry and the community affords MBS avenues for introducing our clients to professional, qualified and adept candidates who would be trained to support all clients universally and respectfully.
ACCESSIBILITY EVALUATIONS & TESTING
Our accessibility experts at My Blind Spot can evaluate your websites, software products, and mobile applications to help you understand where usability problems may exist for people with disabilities. We use a combination of automated testing as well as manual usability testing to provide prioritized, comprehensive feedback to your designers and development teams. We document the accessibility issues and offer guidance on how to solve the problems and improve the user experience for all your customers. We also offer a "quick look" accessibility report free of charge.
USABILITY TESTING
As a client company matures in their knowledge and application of accessibility principles and practices, MBS guides our clients in the next phase of accessibility best practices and protocols, manual usability testing. By including people with disabilities as part of the testing phase, we are able to provide real-time feedback from end users and consumers, with a vested interest in the outcomes. This hands-on approach allows us to compile and prioritize data ensuring the accessibility and usability of all our clients' digital platforms. MBS has a pool of professionals, who are also stakeholders in the outcomes, to guide and assist in usability testing for a company's digital offerings prior to incorporating them into any public facing platforms. Additionally, we can assist in recruiting people with disabilities to include in usability and beta testing and can manage the pool of usability testers (large or small, on-site or remotely). This is a great way to get "real world" feedback on how usable your site or application is for people of all abilities.
ANNUAL ACCREDITATION SERVICE
Each client that subscribes to this service undergoes a full automated and manual technical review. Digital platforms are tested by a team of professionals' dependent on assistive technologies who are also stakeholders in the outcomes. Usability Testing is conducted quarterly by individuals who are blind or print disabled, namely individuals who cannot effectively read print because of a visual, physical, perceptual, developmental, cognitive, or learning disability. My Blind Spot construes print disability as being unable to read standard printed material due to sensory limitations, such as blindness and visual impairment; physical limitations; organic dysfunction; and cognitive issues such as developmental delays, traumatic brain injury, and dyslexia. All testing conducted for this accreditation, both manual and automated, has been conducted under the standards set forth by the WCAG 2.1 AA as well as federal mandates governing inclusive digital design.
QUICKBOOKS™ SCRIPTS AND TRAINING
My Blind Spot has partnered with Intuit to make QuickBooks for Windows™ accessible to people with disabilities, including those who are blind and print-disabled. We offer the JAWS Scripts for QuickBooks packaged with self-paced QuickBooks training in the form of virtual lessons. You can purchase them on their own or combined with a one, two or three user licenses of QuickBooks. The QuickBooks bundle of scripts, license, user guide, and virtual lessons can be purchased directly from My Blind Spot. In addition, we now offer customized training courses for those who want to learn how to use QuickBooks with screen readers and assistive technology. These classes are appropriate for small business owners who want to manage their finances independently, as well as individuals interested in accounting and bookkeeping as a profession. Contact us for additional details.