Text description of the New York State Preferred Service Program's November 2018 post card
Over 1500+ high quality products and service solutions
Popular Products and High-Demand Services
Office supplies
Textiles
Safety gear
Medical supplies
Call center services
Digital accessibility/usability testing
Custom kit assembly
Warehousing and distribution
Document shredding
Order your NYSPSP products and services
Fax: 518-456-3587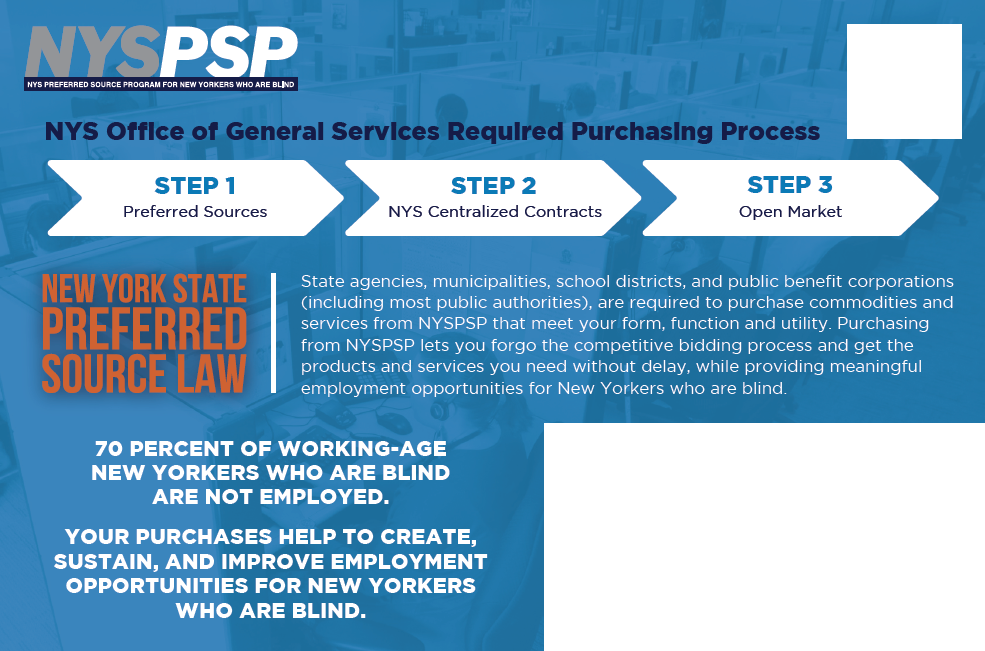 NYS Office of General Services Required Purchasing Process
Step 1: Preferred Sources
Step 2: NYS Centralized Contracts
Step 3: Open Market
New York State Preferred Source Law
State agencies, municipalities, school districts, and public benefit corporations (including most public authorities), are required to purchase commodities and services from NYSPSP that meet your form, function and utility. Purchasing from NYSPSP lets you forgo the competitive bidding process and get the products and services you need without delay, while providing meaningful employment opportunities for New Yorkers who are blind.
70 PERCENT OF WORKING-AGE NEW YORKERS WHO ARE BLIND ARE NOT EMPLOYED.
YOUR PURCHASES HELP TO CREATE, SUSTAIN, AND IMPROVE EMPLOYMENT OPPORTUNITIES FOR NEW YORKERS WHO ARE BLIND.
Fair Use Notice:
In accordance with section 107 of the US Copyright Law, My Blind Spot provides reformatted copyrighted articles found on other websites to ensure they comply with regulations governing authentic inclusion and digital equity for people with a disability. The reformatting of these digitally inaccessible copyrighted materials constitutes Fair Use of the same in accordance with the law. Reformatting the articles shared to our membership may not have the full consent of the copyright owner, but My Blind Spot is exercising the disability community's right to accessible, usable and functional digitized communications and information. This approach not only serves to inform and educate the disability community but serves to educate organizations distributing digitized communications and information about the regulations governing digital equity and authentic inclusion for all people. My Blind Spot advocates for the implementation of accessibility regulations, standards and guidelines, consistently applied when designing and developing digitized publications, articles and communications. In accordance with Title 17 U.S.C. Section 107, My Blind Spot in its capacity as a formal nonprofit, believes the distribution of such materials is within the parameters of the law for educational purposes devoid of profitability. Use of any copyrighted materials found on the MyBlindSpot.org website for any other purpose which goes beyond Fair Use guidelines, requires authorization and permission from the copyright owner.
#FairUse
#AccessAbility