Axe is for Both Seasoned and Aspiring Developers Focused on Usability, Functionality and Accessibility
By Albert J. Rizzi, M.Ed.
Utilizing the new beta features in the free axe browser extension created by Deque Systems "Deque"  is the next step in  building digital equity and authentic inclusion into your development and design processes building digital equity and authentic inclusion into your development and design processes. Accessibility professionals of any caliber would most likely be very familiar with Deque and their impact on digital equity and authentic inclusion these past few decades. The free axe extension is just one of the tools offered within their stable of platforms available to corporations and contractors alike interested in having the best automated testing platforms at their disposal to reduce risk while reaching people of all abilities in the 21st century.
In fact, Deque recently rebranded their entire enterprise suite of tools under the axe name. Users can start with the free extension, sign-up for more advanced beta features (which we're recommending here) and upgrade from there when one might require advanced reporting or test integrations. All of which run on the very popular, and open source, axe-core accessibility testing library. With that said, let's spend our time here reviewing those free beta features called "intelligent guided tests."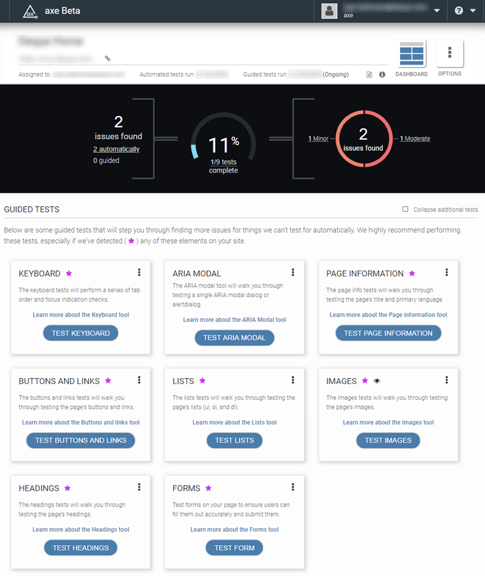 We at My Blind Spot "MBS" have reviewed this platform for functionality and usability and were extremely pleased with what we found, and more importantly, were able to use as professionals who happen to be blind. MBS had our team of accessibility testers and web developers use axe to get hands on experience using this powerful tool, on both the front and back ends.
Our findings determined that axe works very well for organizations committed to building digital equity and authentic inclusion into all they do from the ground up. When designing digitized communications and platforms, baking inclusion into the mix from the beginning of any development or designer process is something that axe can take care of in a single chop and without advanced accessibility knowledge required.
One of the many benefits available when using axe is the user-friendly interface which was well received by both our web developers and accessibility testers. The interface provided relevant information for developers such as:
Issue description (including exact line of source code in which the issue exists, a way to further inspect the code within the testing platform, and a link to learn more about the issue) and
Instructions on how to solve the issue. The options for further info and instructions are extremely helpful for developers and designers new to accessibility and digital equity
Overall axe is a good fit for seasoned professionals focused on high level development processes, or individuals being trained or mentored in creating and designing WCAG AA compliant digital offerings. Axe is a must have for any team that is focused on end user experiences especially developers, designers and usability testers.
Some of the other automated testing platforms that directly compete with axe are:
As time and resources allow, I will be blogging about how Deque's competition stacks up against axe and its beta features. But all of us at MBS want you to know there is a new sheriff in town and its name is axe!
About Albert J. Rizzi, M.Ed.
Albert Rizzi is an international disability and civil rights advocate and the Founder of My Blind Spot, a 501(c)(3) organization with a mission of inspiring digital equity and accessibility for people of all abilities. My Blind Spot also serves the corporate community as an expert accessibility governance adviser, reviewing and auditing corporate digital platforms assessing them for digital compliance to regulations governing inclusion, usability and accessibility for the disability community. People interested in connecting with Albert can email him at albert@myblindspot.org.