By Albert J. Rizzi
This year's Tony Award nominations are out and for the first time since the
Tony's have been given out, a person who happens to have a disability is a
nominee. Congratulations to Ali Stroker for her nomination in the category
for Actress in a Featured Role in a Musical.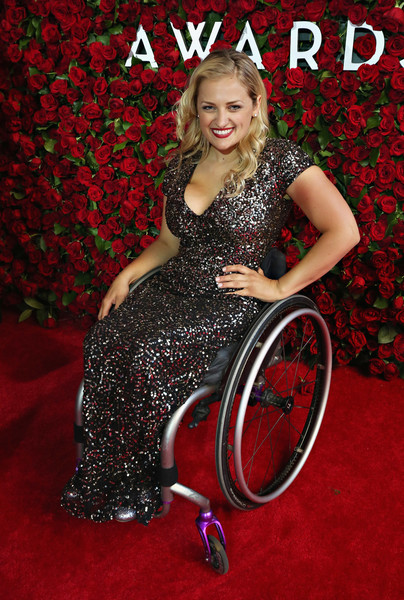 In the revival of Rogers and Hammerstein's Oklahoma!, Stroker's portrayal of
Ado Annie, a "girl who can't say no" — a flirty young woman who chases (and
likes to be chased by) young men is performed with an entirely new "roll" to
it. The plot of the play is the same and the songs are still some of the best in
musical theater history. Only this time, Ado Annie is doing her chasing from a
wheelchair.
Stroker has a mobility impairment that has her "rolling" across stage in a
wheel chair. When she was a kid, she was in a car accident resulting in her
being paralyzed from the chest down. After seeing the musical Annie as a
youngster, she decided that singing and acting was what she wanted to do.
Ultimately, she found success, appearing on the television show Glee and the
Broadway revival of the play, Spring Awakening.
This is an important step for Stroker's career and she deserves many
accolades—for her talent as an actress and a singer, and not to mention the
way she leverages her ability as someone who just happens to have a
disability. It goes without saying, but we must recognize that this is a
historical moment in theater and in the disability movement overall.
Just as it is important to see people of color or those representing the LGTBQ
community authentically on stage and screen, it is also important to see
people across the entire Ability spectrum, acting in a role that is elevated to
Tony consideration because of the authenticity of the actor. There are actors
who are blind, deaf, and paralyzed who are extremely capable of portraying
characters and others written into scripts who are also members of the
disability community. All one needs to do is suspend their sense of disbelief
and the possibilities are endless, as endless as they have become thanks to
musicals like Hamilton, and now a tried and true classic, Oklahoma!. I, for
one, will continue to applaud these authentic representations, when roles go
to actors with talent, and who also just happen to have a different way of
rolling through life as it were.
Stroker's nomination is different and important for another reason. For the
first time, young aspiring actors and theater lovers with disabilities can look
to Stroker's accomplishments, identifying with her ability, and with the
access to all things possible, dream of being recognized for excellence in an
iconic musical theater role or something new and progressive just as
Hamilton has been for musical theater .
Instead of accepting low expectations and imposed limitations forced upon
us by society due to "dis" labeling of Ability, actors of all ages and Ability
now have a role model to draw inspiration from. Thanks to Stroker's drive,
determination, and accomplishments, it's easier for individuals with a
disability, and society in general, to expect that the magic of theater is not
just for some to make, but for everyone and anyone with a true calling and
talent for acting.
Thinking creatively about casting also adds new depth to roles that we have
seen before. It adds nuance the motivations of the character and other
character's in the play that had not been conceived simply because a show
was cast traditionally.
We live in a world where Hamilton has our Founding Fathers and Mothers
representing the entire spectrum of color. Now, with this revival of
Oklahoma!, generations of Ado Annies and other featured roles in theater will
include Ability authentically in addition to talent. I am so moved and
compelled to "act" on all of this and have half a mind to go down to the
Gateway Playhouse here in Bellport to reprise my featured role as Albert
Peterson in Bye Bye Birdie! Only this time, my Albert Peterson will be blind
and much more fascinating! To quote one of the songs from that musical,
"Everything is Rosie" for theatergoers on Broadway. Remember my peers
from the disability community, if you can make it here, New York that is, you
can make it anywhere!